We

Have Never Been Modern

Graphic Design•2019
In 1957, the Soviet Union put humanity's first artificial satellite, Sputnik 1, into orbit around the Earth. As an effect, a large number of companies began publishing advertisement, which referred to space. Afrang Nordlöf Malekians work is built on these commercial ads.∙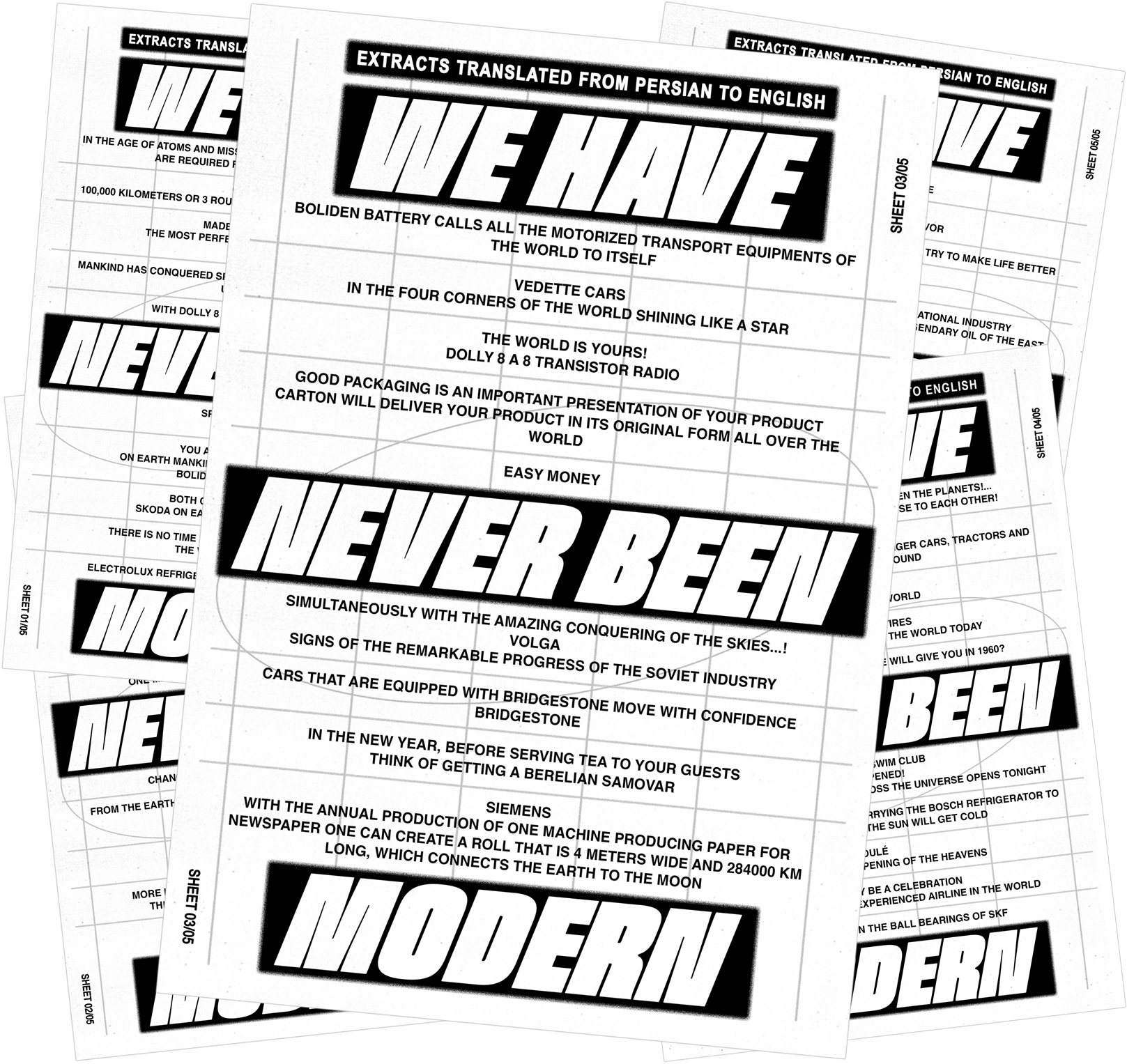 Five sheets with text translated from Persian to English, extract in Persian on the other side
Rave Review
Graphic Design•2019
Digital invitation for

Rave Review

AW19 Fashion Week in Stockholm 2019.

Rave Review

is an upcycling clothing line, based in Stockholm, founded by Josephine Bergqvist and Livia Schück.∙
Recess 10th Anniversary
Graphic Design•Proposal Only•2018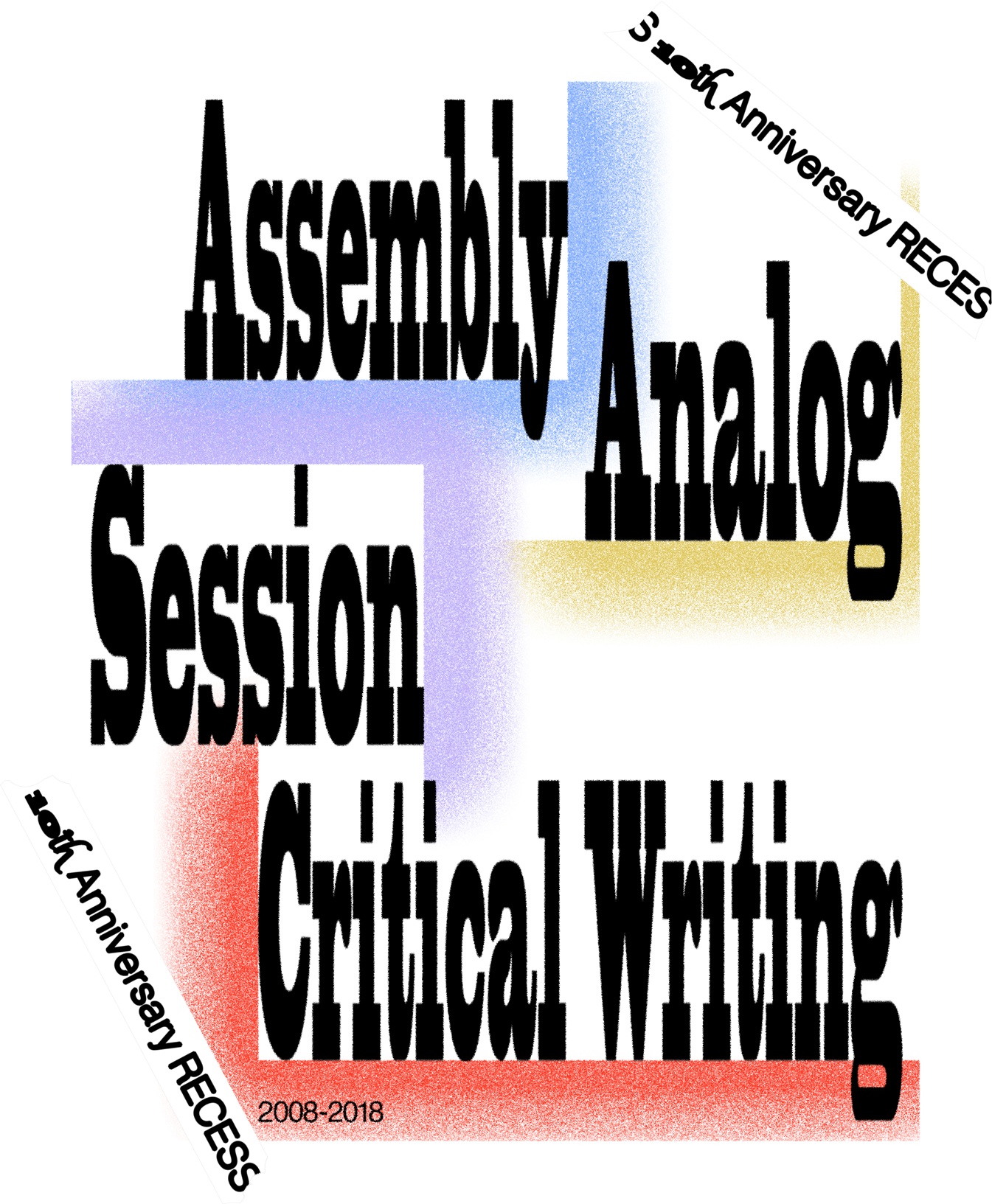 Recess

is a public gallery and artist workspace. Since 2009,
the gallery

has produced more than hundred programs and exhibitions many of which deals with critical themes. This is a proposal only and an assignment during

Typography Summer School

in New York.
Inspired by the distribution and boldness by which social movements have expressed themselves historically, I created a design for

Recess Gallery

to use for there 10th Anniversary. Using colours to separate the four themes and high-lighting core words within the text, makes the subjects hard to overlook.∙
Beatrice Eli, Showgirl
Graphic Design•2018
For the show at Dramaten in Stockholm, we created a graphic profile with inspiration from vintage showgirl cards.⋆
Art Direction and Production; Minda Jalling, Photo; Frida Vega, Hair/Make; Yenifer R. Sanchez, Styling; Ellen X, Styling Assistent; Amel Abdulazez
In collaboration with Alexander Söder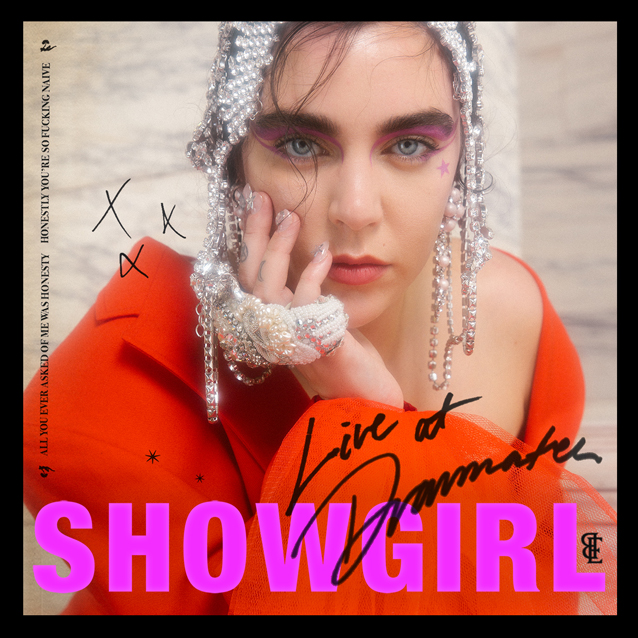 Live album cover and instaflyer for the after party at Nosh & Chow
Sensory Futures–The Work to End All Labor, is an artistic platform and a series of seminars including gatherings, performances and workshops organized by curator Marianna Feher.∙
Beckmans Fashion Collaboration
Art Direction, Graphic Design & Set Design•2015
FASHION FROM TOP LEFT Patrik Guggenberger, Marika Ekblad, Caroline Brendov, Hanna Björklund Olsson, Hanna Poulsson, Johanna Dellenbrandt and Sanna Vogel. PHOTOGRAPHY BY Ninja Hanna
The third year fashion students were invited to create personal collections based on leading brands on the Swedish fashion scene—Carin Wester, Cheap Monday, House of Dagmar, Filippa K, Our Legacy, Whyred and Örjan Andersson—and show their work at Stockholm Fashion Week.∙
Catalogue containing projects of MA and BA graduates from the Fine Art program at Konstfack. Each student had a spread to organise themselves within the framework we created.∙

In Contrast
Art Direction, Graphic Design & Set Design•2014
Overall concept for Beckmans Product Design students at the Stockholm Furniture Fair 2014. Including films, catalogue, website, invitations, music, business cards, art direction of photography and exhibition design.
The background for the project has its roots in the eastern philosophy of Yin and Yang, a term used to describe how seemingly opposite or contrary forces are interconnected and interdependent, such as light and dark, life and death, logical and illogical, past and present. Dichotomies and dualities that are in contrast rather than in conflict.∙
In collaboration with Johanna Burai, Tobias Ohlström, Stephanie Abdallah and Oskar Pernefeldt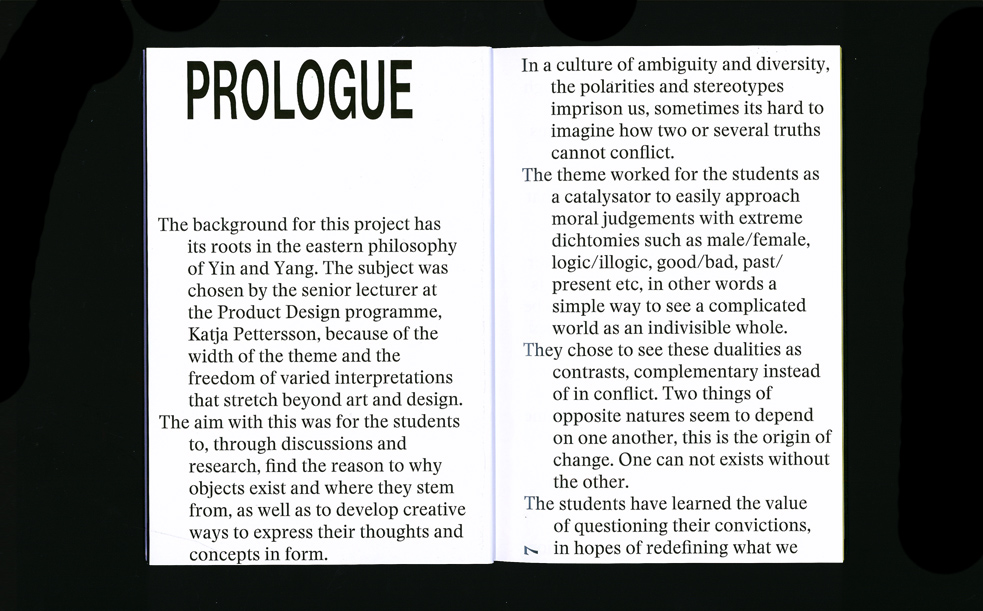 From top left; Tove Greitz CORPUS CALLOSUM, Minna Magnusson THE DESK, Gabriel Stuart ALMEGA, Camilla Frick Isberg MERIDIAN and Sofie Holt HEY. Photography by PATRIK THALÉN∙
The Aesthetics of Selling Body Soap
Body Soap Name Generator is made of words from my

collection of body soap products

sold in Denmark, Norway and Sweden.

Today most body soap advertisement and design operate on the principle of hedonism rather than practicality. It is no longer a necessity but an indulgence. This hedonism is the most dominant trope, but not the only one, when selling body soap hyper commercially today. Consumers are e.g. being sold the idea of "the other" by bringing us to places using soap names such as Asian Inspiration or Eastern Spirit.

Based on the English words from the front labels of over 200 body soap products collected in supermarkets in Sweden, Denmark and Norway 2016-now,

Body Soap Name Generator

explores how language, a combination of "glittering generalities" (emotionally appealing words) and value-laden particularity, is used to sell cleanliness on a massive scale.
In simulating the constant repetition advertisement depends on, this generator creates more than 800,000,000 possible product names—more than a lifetime of body soap names.∙
A Short History of Selling Soap
Research•Sound piece
"A Short History of Selling Soap consists of material covering the history of selling soap and how it goes hand in hand with the exposure of middle class values, heterosexuality, whiteness and ideas of civilization. Spoken by a woman frequently hired as a professional voice-over for advertising, it creates critical questions of recognition. Who is able to feel relaxed and at ease by a soft voice uncovering the darkness of European history?"∙ Text by Johanna Lewengard
Music by www.meditationrelaxclub.com
Courtesy of Equilibrium Srl/Tobacco Music edition
Education
Western Colonialism and Imperialism
Part-time Course 15.0hp
Sweden 2018-2019


Master of Fine Arts
Visual Communication
Sweden 2015-2017


Bachelor of Fine Arts
Visual Communication
Sweden 2012-2015
Work Experience
Weekday/H&M
Digital Designer
Stockholm 2017-2018

Selected Clients
Ottar
Contact
Agga Anne Mette Stage
annemettestage@gmail.com
+ 46 076 417 55 76
Internship and courses

New York, August 2018


London, June 2018

Intern at
Norway 2014


6 month course
Graphic Design Program
Denmark 2011



Body Soap Name Generator Exhibitions 2017-2018
Tokyo Design/Art Festival
Kita-Aoyama, Minato-ku, Tokyo
19-29 Oct. 2018


Young Swedish Design (YSD)
Rian, Falkenberg
2 June-26 Aug. 2018


Form/Design Center, Malmö
23 March-13 May 2018


ArkDes, Stockholm
7 Feb-18 March 2018


ArkDes, Stockholm
6 Oct 2017-11 Feb. 2018


Konstfack
Graduation Exhibition
11 May–21 May 2017

Copyright © Agga Anne Mette Stage 2019